Quality
Our approach to quality assurance
Our factory focuses the highest priority on securing the quality assurance of deliveries of our products and to ensure their safety and good condition, and makes every effort in the continuous improvement of the quality of our products and processes.
Quality Assurance Efforts
KOHJIN Life Sciences has developed a rigorous quality assurance system that enables us to deliver our proven, safe and trusted products all around the world.
We are committed to Safety in our supply chain from Raw Materials through to Dispatch
To show our commitment to the supply of safe and high quality products, we confirm the safety and conformity of our raw materials through the results of our own audits on our suppliers and through a thorough analytical testing of our incoming raw materials.
We make every effort to improve our production control and the environment through the management of and continuous improvement in our quality control system.
Ongoing monitoring for quality assureance
We analyze the components and parameters of our products such as bulk density, specific gravity, microbiology, colour etc, to ensure we comply with the requirements of the law, regulations and our own specifications. In addition, besides physical analysis, we also carry out a sensory evaluation of every lot of our products to ensure that they conform to our taste and flavour expectations.
Quality Assurance traceability
For the purpose of guaranteeing safe and high quality end products we have established a rigorous traceability system in all production processes from the receipt of raw materials through to the delivery of final products.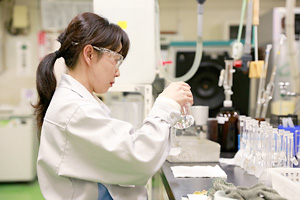 Food Safety and Quality Policy
KOHJIN Life Sciences, as a member companies of the Mitsubishi Corporation Life Sciences Group, through its integrated corporate strength and strong focused R&D capability in the life sciences, aims to become a leading global company in the food science business.
We aim to become a company that satisfies all stakeholders, including clients, employees, and shareholders. We provide the ultimate great tasting and healthy high value-added products sought by customers, together with reliable information.

We value internal and external communication in every step of the process, from R&D to procurement of raw materials, production, and distribution, and consistently provide safe and high quality products.

All products and services we handle are in compliance with relevant laws, ordinances, and regulatory requirements in order to earn the trust of our customers.
Our Quality Assurance Committee has active participation by the Factory Manager, and personnel from the Production Division, Management Division, Research Division, QA Department, and other areas to implement actions for quality improvement.
Main actions
Quality Assurance Committee (convened monthly.)
Internal audits for ISO9001(*1) and FSSC22000(*2), and management reviews (conducted twice a year)
Others such as IPM(*3) actions, voluntary spot checks, and small group based actions for improvement are promoted.
Sensory Evaluation Framework
Our staff performs comprehensive evaluation of "deliciousness," a property impossible to measure by automated analyses, as a part of our quality management.
Proper evaluation of "deliciousness" (sensory evaluation)
Safety and Good Quality (Certification)
We have developed a management framework including FSSC22000 and GMP(*4) in order to enforce thorough quality control under "the production environment to protect the safety of consumers." We also undergo periodical assessments and inspections by external third party authorities on ISO, AIB Food Safety Program, FSSC22000 and other standards.
Certification
ISO9001
FSSC22000
Kosher(*5) (Jewish requirements)
Halal(*6) (Islamic requirements)
---
ISO9001:
Management system international standard for providing products and services of the required level of quality and raising customer satisfaction.
FSSC22000 (Food Safety System Certification):
Standards of food safety management system that meet requirements of ISO22000, basic guidelines of food safety, and other additional requirements not part of ISO22000
IPM (Integrated Pest Management):
Pest control management techniques for factories.
GMP (Good Manufacturing Practice):
Manufacturing process management standards to ensure the product is being safely manufactured to an identifie quality standard in every process from receipt of raw materials to production and dispatch.
Kosher:
Certification of food prepared in accordance with Jewish teaching.
Halal:
Certification of food prepared in accordance with sharia (Islamic law).